BGAN RF-7800B-VU104
Tarif : nous consulter.

Terminal BGAN Portable "Durci" Véhicule

Livré avec :

Câble Ethernet
Câble d'alimentation véhicule 12V

Assured mobile connectivity across extended battlespace

The RF-7800B-VU104 Land Mobile Broadband Global Area Network (BGAN) SATCOM Terminal provides a tactical radio network capability that enhances the FALCON III® multiband radio family. The RF-7800B-VU104 is a Class 10 BGAN SATCOM-on-the-Move (SOTM) Terminal that provides data rates of up to 492 kbps while on the move. The RF-7800B-VU104 is the only rugged BGAN SOTM terminal available today.
Fiche technique en anglais.
The RF-7800B-VU104 antenna may be permanently mounted on a vehicle and continuously tracks with the INMARSAT satellite for successful communications. The RF-7800B-VU104 can be considered for global network connectivity solutions when used with a computer for standalone terminal applications such as law enforcement, homeland security, or humanitarian and disaster relief efforts.
When used with the AN/PRC-117G(V)1(C) or the RF-7800M-MP manpack radios, the terminal provides a multi-mode system that utilizes ad-hoc networking to automatically route between mobile wideband networked line-of-sight (LOS) nodes, adding global beyond-line-of-sight (BLOS) satellite connectivity. The Falcon III integrated system manages Inmarsat subscriber costs through the automated routing between ANW2 LOS and BLOS nodes. The system is designed to ensure a seamless tactical network-centric BLOS connectivity to the existing FALCON III tactical networks, providing secure IP data transfer capability and increased communications reliability. When used with the Falcon III manpack radios, the Harris BGAN terminals can provide an increased effective throughput of up to 2 Mbps over the Inmarsat network due to TCP/IP acceleration and compression algorithms within the ANW2 waveform further reducing Inmarsat subscriber costs.
The Harris BGAN Terminal IP data is encrypted by the Sierra II™ Type-1 algorithms in the AN/PRC-117G or the Acropolis™ II AES encryption algorithms in the RF-7800M-MP. The embedded software of the manpack radio provides the ability to fully configure, remotely control and provide status and fault monitoring of the RF-7800B-VU104 BGAN Terminal using the radio's front panel, making it the easiest BGAN terminal to set up and operate.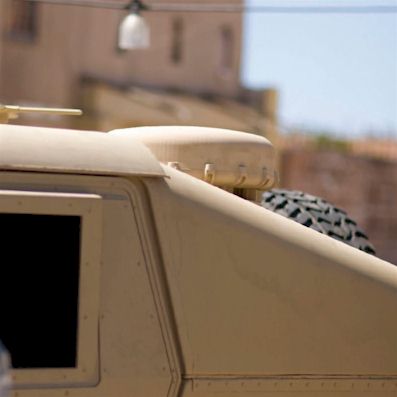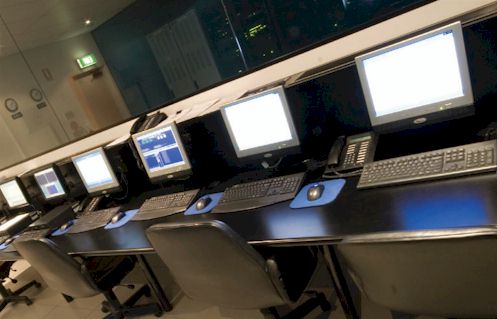 Spécifications Techniques
Capabilities
Full IP Capability : Email, Web browsing, FTP, etc.
Inmarsat Certified :

Land Mobile User Equipment Class 10
BGAN Background user data rates up to 492 kbps
BGAN Streaming QoS: User data rates of 32, 64, 128, 256* kbps
* 256 kbps is only available at elevation angles > 45°
Global coverage

Multi-user capability of up to 11 simultaneous primary user contexts/sessions
IP network bridging mode & modem mode support
FCC, C5, GMPCS/ITM Certified
Specifications
BGAN Satellite L-Band Frequency Operation :

TX: 1626.5-1660.5 MHz
RX: 1525-1559 MHz
Full-duplex, BLOS operation

Dimensions (D x H) : 51 x 20 cm
Weight : 12.6 kg
Power Options :

Internal MIL-STD-1275 power supply
120/240 AC power supply
Standard vehicle DC adapter

Continuous Tracking with Vehicle Motion Changes of :

Angular velocity of 100°/s (azimuth & elevation)
Angular acceleration of 100°/s2 (azimuth & elevation)
360° continuous field of view in azimuth
5°–90° continuous field of view in elevation
Travel speeds up to 70 mph
Interfaces
Data : Ethernet, USB
ISDN : Voice (4 kbps), data (64 kbps)
DC Power : 10–34 VDC
User-removable SIM card slot
Simultaneous use of all interfaces
Environmental
Rugged : MIL-STD-810F
Immersion : 1 meter
EMI : MIL-STD-461E
Compliance : ROHS
Included Accessories
12043-0843-A015 Automobile 12 VDC Power Cable
12043-0833-A010 Standalone Ethernet Cable
Optional Accessories -
(Tarif sur demande)
12091-0070-01 AN/PRC-117G, RF-7800M-MP Land Mobile Ancillary Kit
12043-0830 AN/PRC-117G, RF-7800M-MP Black Ethernet Cable
12043-0831 AN/PRC-117G, RF-7800M-MP Black Ethernet & ISDN Cable
12043-0834-A010 Standalone Ethernet & ISDN Cable
12043-0835-A010 Standalone ISDN Cable
12043-0836-A010 Standalone USB & ISDN Cable
12043-0837-A015 Data Extension Cable, Ethernet & ISDN
12043-0844-A1 AC/DC Power Supply
12043-0841 BGAN DC Power to RF-505X PS
12043-0845-A015 Power Extension Cable
12043-0840 BGAN DC Power to 4 Leads / RF-7800B-VU Remote On/Off
12043-0846-A015 BGAN DC Power to 2 Leads
2043-0842 BGAN DC Power to RF-505X PS / RF-7800B-VU Remote On/Off
12091-4200-01 HF/VHF/UHF CoSite Low Pass Filter Kit for L-Band
12091-4160-01 ISDN to POTS Converter
Tactical Area Communications System Utilizing the RF-7800B Terminals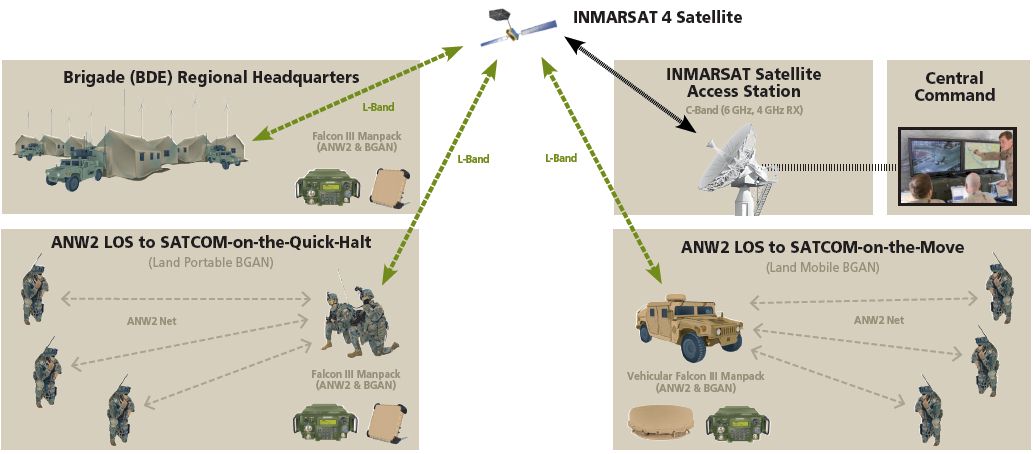 COUVERTURE :