Iridium SBD 9602N

La solution M2M la plus petite
et la plus puissante du marché.

Abonnement et Communications
Fiche technique en anglais

Iridium SBD is a simple and efficient network transport capability
for transmitting short data messages between
equipment and centralized host computer systems.

Iridium 9602N
240,00 € HT (288,00 € TTC)




Antenne AntCom S1.5IR16RR-P-XS-4 Passive
1.5" Square Iridium Antenna, Back Mounted Configuration, SMA Connector Black"
225,00 € HT (270,00 € TTC)
The Iridium 9602-N is the next generation SBD unit designed for embedded applications and is ideal for machine-to-machine (M2M) solutions. The Iridium 9602-N sends and receives packets of data over signaling channels making it suitable for integration into a variety of partner M2M solutions. It is a smaller size and form factor to its predecessor, the Iridium 9601 and includes a GPS pass through port for connection to a GPS antenna or receiver.
Features

Single board transceiver
Small form factor
No SIM card
Designed to be incorporated into an OEM solution
RoHS compliant

Capabilities

Global operating capability
Maximum mobile originated message size 340 bytes
Maximum mobile terminated message size 270 bytes
The Iridium 9602-N is designed to be integrated into a wireless data application with other host system hardware and software to produce a full solution designed for a specific application or vertical market.
It is smaller, lighter, and lower cost than its predecessor, making it ideal for integration into machine-to-machine (M2M) solutions such as automatic vehicle location, asset monitoring, marine and personal tracking applications – everywhere.
How It Works
The Iridium 9602-N is a single board unit designed as a 'black box' transceiver module with all device interfaces controlled by a single multi-pin interface connector in addition to the antenna connector.
As the product only provides the core transceiver, all other end-user Field Application functions such as GPS, microprocessor based logic control, digital and analog inputs, digital and analog outputs power supply and antenna must be provided by the solution developer.
The device interface across the user connector consists of a serial-data interface, DC power input, network available output and a power on/off control line. The Iridium 9602-N does not incorporate nor require a Subscriber Identity Module (SIM) card to be inserted into the transceiver. The Iridium 9602-N is intended to be used as a transceiver module fitted within another host system.
Basic Specifications

Mechanical Dimensions : 41.0 (L) x 45.0 (W) x 13.0 (D) mm
Weight : 30.0 g
Antenna connectors (for GPS and Iridium) : MMCX
Environmental Specifications :

Operating Temperature Range : -40ºC to + 85ºC
Operating Humidity Range : ≤ 75% RH
Storage Temperature Range : -40ºC to + 85ºC
Storage Humidity Range : ≤ 93% RH

RF Parameters :

Frequency Range : 1616 MHz to 1626.5 MHz
Duplexing Method TDD : (Time Domain Duplex)
Input/Output Impedance : 50 Ω
Multiplexing Method : TDMA/FDMA

DC Power Input :

Idle Current (average) : 45mA
Idle current (peak) : 195mA
Transmit Current (peak) : 1.5A
Transmit Current (average) : 190mA
Receive Current (peak) : 195mA
Receive Current (average) : 45mA
SBD message transfer – average current : 190mA
SBD message transfer – average power : ≤ 1.0W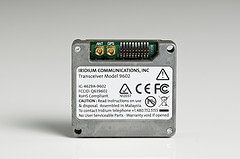 Schema de fonctionnement